We are OPEN for TELEPHONE or ONLINE ORDERS ONLY! - The Showroom is open by appointement to trade only
We are OPEN for TELEPHONE or ONLINE ORDERS ONLY! - The Showroom is open by appointement to trade only
Cell Air
New York Acoustic Panel Range
Cell Air plaster acoustic ceiling panels are manufactured from reinforced casting plaster and offer excellent sound absorption, controlled sound transmission and decorative finishes.
The panels are essentially perforated cast plaster ceiling sheets that are also suitable for installation as a feature wall as well as ceilings.
Panel Features
V-Edged panel, perforated with a set of 14 x 14 circular holes, 55 mm opening at the mouth, tapering to 53 mm at the rear; holes at 86 mm centres, open area percentage 30.0% based on 53 mm throat opening.
Full acoustic perforations
Simple installation screw fix to steel or timber battens
Flush jointing
Precise lines
Three unique and innovative designs
Panel Benefits
High sound absorption
Reduces noise reverberation
Unique and innovative designs which can only be achieved with cast plaster
Prevents dust entering into room space
Reduces echo
Able to help to distinguish between music and speech
Cell Air Properties
| | |
| --- | --- |
| Tile Thickness | 15 mm |
| Size | 1200mm x 1200mm |
| Open Area | 31.8 % |
| Mass | 12.50 kg/m2 |
| Weight per tile | 18 kg |
Acoustic ceiling tiles are supplied underside of tile sealed off with a plaster skim coat as standard. Please contact us for unsealed options.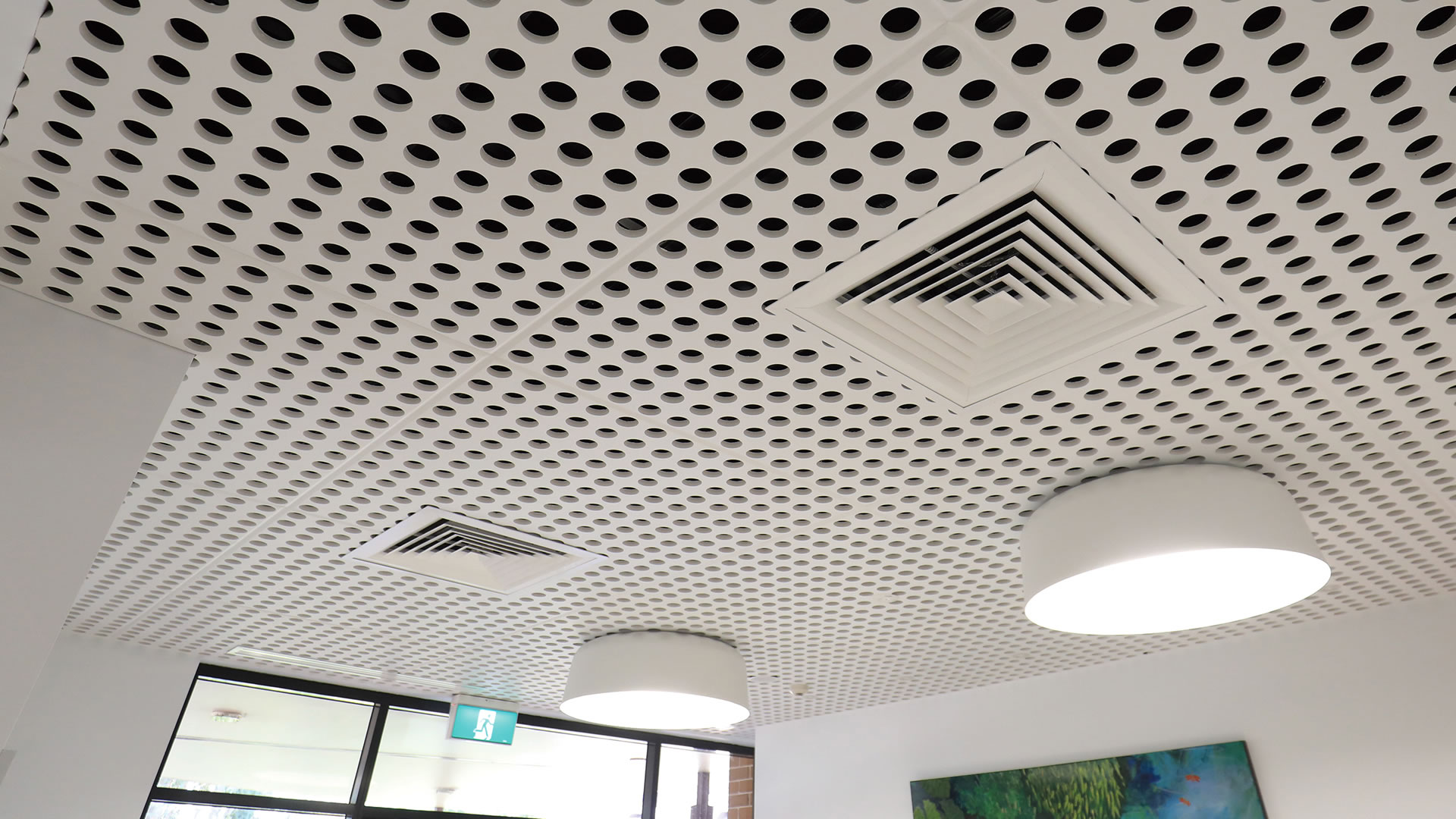 Sound Absorption Test Results
AS ISO 354–2006 "Acoustics–Measurement of sound absorption in a reverberation room"
AS ISO 11654–2002 (ISO 11654:1997) "Acoustics–Rating of sound absorption–Materials and systems"
Cell Air Results
For 50mm Glasswool insulation, 400mm Air Gap
(50mm insulation)
For 50mm Glasswool insulation, 50mm Air Gap
Acoustic Test Results
| | |
| --- | --- |
| Insulation Thickness | 20 mm |
| αw | 0.70 |
| SAA | 0.84 |
| NRC | 0.85 |
| | |
| --- | --- |
| Insulation Thickness | 50 mm |
| αw2 | 0.75 |
| SAA2 | 0.93 |
| NRC2 | 0.95 |
Download Reports
Rondo Suspension System
Furring channel 28mm thick Steel Stud (walls) 64, 76, 92 wide